Reviews
AEC appreciates our customer's feedback and comments!
If you would like to submit a review survey for your visit (and upload a photo of your pet) please click here.
Items:


Peyton
07/10/21
- We had a wonderful experience at this emergency vet. They were the only ones willing... (
more
)


Buddy
07/05/21
- It meant a lot to me to have a Dr. that runs her practice by the "Golden Rule." My... (
more
)


Max
06/26/21
- Dr. Robertson and her staff were comforting and very helpful during their time with... (
more
)
---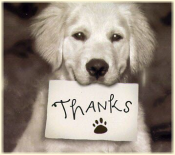 Testimonials
Words of Appreciation
The following gallery contains a sampling of the many cards, letters and testimonials we have received from our customers.
Thank you for sharing your kind words, and for choosing AEC to help you in your time of need.
Items:
No testimonials found.