Reviews
AEC appreciates our customer's feedback and comments!
If you would like to submit a review survey for your visit (and upload a photo of your pet) please click here.
Items:


Gecko
04/21/21
- COVID-19 made for a different vet experience, but AEC took excellent care of my... (
more
)


Loki
04/18/21
- I was very happy with the care and treatment of my beloved sun conure Loki who was... (
more
)


Riley
04/05/21
- Dr. Kleefisch was so very kind and patient explaining Riley's prognosis. He helped... (
more
)
---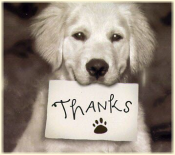 Testimonials
Words of Appreciation
The following gallery contains a sampling of the many cards, letters and testimonials we have received from our customers.
Thank you for sharing your kind words, and for choosing AEC to help you in your time of need.
Items:
No testimonials found.