Reviews
AEC appreciates our customer's feedback and comments!
If you would like to submit a review survey for your visit (and upload a photo of your pet) please click here.
Items:


Skittles
10/03/20
- Thank you AEC for saving my pet rat Skittles. I was terrified she would pass away... (
more
)


Everest
10/02/20
- Thankful this place was close to home. After our Malamute ate a broken spaghetti... (
more
)

Pebbles
09/25/20
- Even though we ended up having to put my pet pebbles down everyone was so sweet... (
more
)
---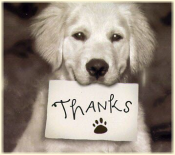 Testimonials
Words of Appreciation
The following gallery contains a sampling of the many cards, letters and testimonials we have received from our customers.
Thank you for sharing your kind words, and for choosing AEC to help you in your time of need.
Items:
No testimonials found.