Reviews
AEC appreciates our customer's feedback and comments!
If you would like to submit a review survey for your visit (and upload a photo of your pet) please click here.
Items:


Zeus
09/07/23
- The staff at this office are absolutely marvelous. They kept us calm for a very... (
more
)


Mila
09/05/23
- Our puppy Mila got into some known/unknown foreign objects on Labor Day evening... (
more
)


Andis Carlson
08/31/23
- I can't thank you enough for the patience, kindness and prompt attention we received... (
more
)
---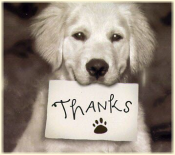 Testimonials
Words of Appreciation
The following gallery contains a sampling of the many cards, letters and testimonials we have received from our customers.
Thank you for sharing your kind words, and for choosing AEC to help you in your time of need.
Items:
No testimonials found.